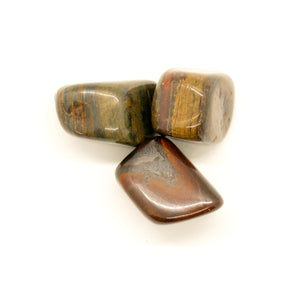 .75-1 Inch Tumbled Stone
Tiger Iron protects your environment from unwanted energies. It helps bring in emotional clarity aiding in more patience. It motivates you to make things happen by helping you utilizes your talents and abilities. It inspires creativity. It helps you transform into your true self by encouraging you to get out of your comfort zone. It sharpens your senses helping you to pay attention and prepare you to take positive action. It aids in supporting you when you are afraid of making the wrong decision. It brings in a sense of self-worth by helping you see and awaken your dormant potential. Tiger iron is grounding and helps reduce stress. Strengthens the Solar Plexus Chakra.
The photo is an example only. The actual size, shape, and colors will vary.