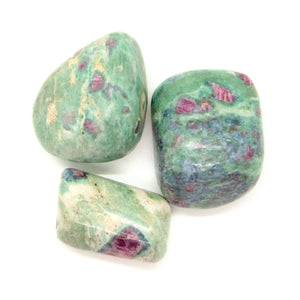 1-1.5 Inch Tumbled Chakra Stone
Ruby Fuchsite opens spiritual awareness and communication between your mind and your intuition. This communication will help you hold back from saying things you will regret and assist you in hearing a differing opinion. In addition, it increases your self-esteem, enabling you to speak clearly. Ruby Fuchsite creates balance in taking care of yourself instead of putting others' needs before yours. This stone brings understanding on all levels, how to overcome issues, blocks of the heart, and what is stopping you from success. It helps you release those so you can determine your next action steps. Finally, it aids you in addressing the strain around abundance so you can replace it with love and focus on worthwhile pursuits. It strengthens the Third-Eye, Throat, Sacral, and Root Chakras.
The photo is an example only. The actual size, shape, and colors will vary.