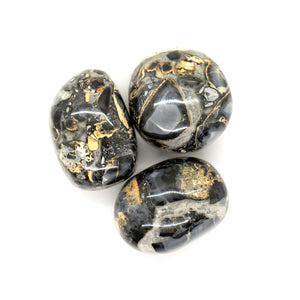 .75-1 inch Tumbled Stone.
Maligano Jasper opens your eyes to see what is important in life. This stone puts our want for objects and possessions into the right perspective. It also helps you see others' true nature and intentions. It helps center your energy and bring it into balance. It boosts your intuition and helps align you with your Creator. It clears clutter from your energy field.  It supports you in pulling out blocked emotions. It assists healers to know, feel, and see others' blocked emotions that need attention. Strengthens all the Chakras.
The photo is an example only. The actual size, shape, and colors will vary.