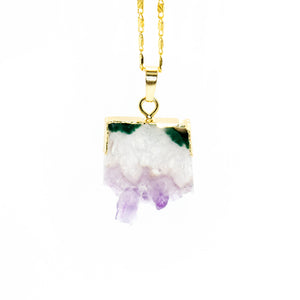 Gold-plated Amethyst Cluster chakra stone with a gold-plated chain.
The pendant is about 1 inch by 1 inch.
Chakra Crystal Amethyst Meaning
Amethyst chakra crystal is known as a natural stress reliever. It soothes emotional wounds and eases stress. It is useful in situations when emotions stop your ability to take action. Amethyst chakra crystal supports better decision-making by assisting in sober and critical thinking. It encourages the release of sorrow when grieving a loss. This chakra stone strengthens the Third Eye and Crown Chakras.
The photo is an example only. The actual size, shape, and colors will vary.